[IpTegrity] 4 March set for Hadopi law in French Parliament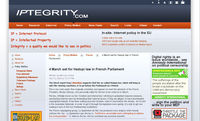 The French campaigning group, La Quadrature du Net, has produced a new analysis which heavily criticises the law. La Quadrature says the law is "ineffective, unworkable and is attempting to address the wrong problem ". It believes the law will not contribute any economic benefits.
http://www.iptegrity.com/index.php?option=com_content&task=view&id=249&I...