[IP-Watch] TTIP Still In 'Exploratory' Phase On GIs; Data Flows Tied To Privacy Regimes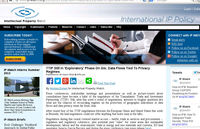 [...] After round four of the TTIP negotiations between the European Union and United States this week in Brussels, the lead negotiators could not offer anything that looks easy in the talks. [...]
Questions on the nature of an IP chapter for the TTIP were not answered at press time.
[...]Bercero reiterated that TTIP is "not the right place to address the differences of view that need to be resolved as far as data privacy is concerned." [...]
[...] The European Parliament this week also voted in favour of withholding consent for the TTIP if it does not fully respect EU data privacy rules.
http://www.ip-watch.org/2014/03/14/ttip-still-in-exploratory-phase-on-gi...