[HuffingtonPost] ACTA: Deliberating Out in the Open Over an Agreement Negotiated Behind Closed Doors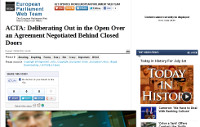 The fate of the controversial ACTA anti-counterfeiting agreement will finally be decided during the July plenary when the European Parliament puts it to a vote. Without the Parliament's approval, it will not be able to enter into force in the EU. [...]
As the Parliament received several petitions asking MEPs to reject ACTA, including one signed by about 3 million people, the petitions committee organised a meeting to give the organisers a chance to air their views.
With the vote during the July plenary, Parliament's role in ACTA is nearly finished. The four parliamentary committees advising on the agreement and the lead committee have all come out against ACTA. However, as these recommendations are not binding, what MEPs will decide to do remains uncertain.. What is sure, however, is that the Parliament stuck to its intention to make its deliberation process as transparent as possible. Maybe not everyone will agree with the result of the final vote, but at least they will be able to understand how MEPs came to a decision.
http://www.huffingtonpost.co.uk/european-parliament-web-team/acta-delibe...