[Guardian] Governments must not censor internet, says William Hague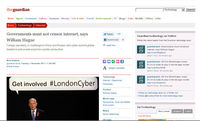 The UK has issued a direct challenge to China and Russia over regulation of the internet, with William Hague insisting that cyberspace must not be "stifled by government control or censorship".
Hague told delegates that cyberspace should not be "subject to separate rules and processes in different regions set by isolated national services, with state-imposed barriers to trade, commerce and the free flow of information and ideas".
The conference is a first attempt to get all interested parties around the table to discuss potential ways forward, though it is not expected that anything binding will emerge during, or in the immediate aftermath, of the two-day meeting.
http://www.guardian.co.uk/technology/2011/nov/01/governments-must-not-ce...