[GlobalPost] Canadians to see Canada-EU free trade pact legal text soon, says Fast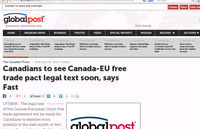 [...] The legal text of the Canada-European Union free trade agreement will be ready for Canadians to examine soon, possibly in the next month or two, federal Trade Minister Ed Fast said Friday.
The agreement was signed amidst much fanfare in mid-October, but finalizing the text and putting it into legal language has taken time. [...]
Some have speculated that the Oct. 18 announcement left several issues still unresolved, particularly concerning investment protection, but Fast said to expect no surprises once the legal text is made public. [...]
He said Canada may see the document before Europe, where it will have to be translated into 24 languages. Still, implementation will require ratification by all 28 EU member states and is not expected until 2015.
http://www.globalpost.com/dispatch/news/the-canadian-press/140228/canadi...