[Gizmodo] Which Tech Companies Protect Your Data From the Government?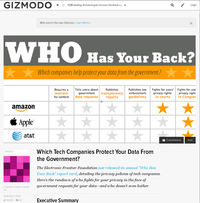 The Electronic Frontier Foundation just released its annual "Who Has Your Back" report card, detailing the privacy policies of tech companies. Here's the rundown of who fights for your privacy in the face of government requests for your data—and who doesn't even bother. [...]
In this annual report, the Electronic Frontier Foundation examined the policies of major Internet companies — including ISPs, email providers, cloud storage providers, location-based services, blogging platforms, and social networking sites — to assess whether they publicly commit to standing with users when the government seeks access to user data. The purpose of this report is to incentivize companies to be transparent about how data flows to the government and encourage them to take a stand for user privacy whenever it is possible to do so. [...]
http://gizmodo.com/which-tech-companies-protect-your-data-from-the-gover...