[Gigaom] Europe's net neutrality law passes crucial committee vote with poor safeguards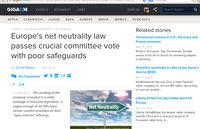 The European Parliament's industry committee has passed Digital Agenda Commissioner Neelie Kroes's big telecoms legislation package, including a contentious section covering net neutrality.
The legislation is ostensibly supposed to entrench the principles of net neutrality in European law for the first time, guaranteeing that broadband and mobile providers treat all internet services equally. [...]
According to Miriam Artino, legal and policy analyst at digital rights group La Quadrature du Net, the Tuesday vote was "a sign of the massive lobbying influence of big telecom operators over the European legislative process," but all is not lost:
"The regulation's big loopholes will have to be corrected when the European Parliament casts its final vote in a few weeks. The many MEPs who have proposed constructive amendments at the committee stage now have an opportunity to table new amendments across party lines so as to ensure that the general interest prevails over the short-term commercial interests of the telecom industry."
http://gigaom.com/2014/03/18/europes-net-neutrality-law-passes-crucial-c...