[France24] OSCE warns of Internet pact's curbs on expression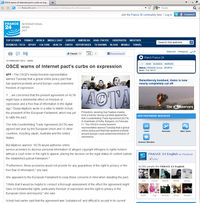 The OSCE's media freedom representative warned Tuesday that a global online piracy pact that has sparked protests around Europe could undermine freedom of expression.
"I ... am concerned that the present agreement on ACTA might have a detrimental effect on freedom of expression and a free flow of information in the digital age," Dunja Mijatovic wrote in a letter to Martin Schulz, the president of the European Parliament, which has yet to ratify the pact. [...]
"I think that it would be helpful to conduct a thorough assessment of the effect the agreement might have on fundamental rights, particularly freedom of expression and the right to privacy in the European Union and beyond," she said. [...]
http://www.france24.com/en/20120214-osce-warns-internet-pacts-curbs-expr...