[FFII] Tentative remarks on leaked CETA IP chapter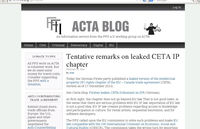 Ante Wessels' analysis of the recent leak of CETA published by the German Pirate Party. He states that as European Intellectual Property laws are already not good, they should not be exported. Instead "The FFII called upon the EU commission to solve such problems and make EU law compatible with the UN International Covenant on Economic, Social and Cultural Rights (ICESCR)."
He goes on to compare the leak with ACTA and finds some improvements but some serious flaws, especially with regard to Investor-state dispute settlement (ISDS) and that Patent Trolls will be able to use the enforcement mechanisms. He deplores the aim of the treaty, which does not contain "a word about access to knowledge and participation in culture" nor does it make mention of the ICESCR.