[EuObserver] MEPs to vote on Acta before summer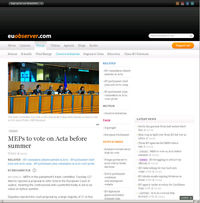 MEPs in the parliament's trade committee Tuesday (27 March) rejected a proposal to refer Acta to the European Court of Justice, meaning the controversial anti-counterfeit treaty is set to be voted on before summer.
Deputies rejected the court proposal by a large majority of 21 to five. Immediately after the vote the centre-left Socialist group and the Greens indicated their intention to reject the treaty. [...]
Meanwhile, Green MEP Amelia Andersdotter commented that the treaty "should never have been concluded in the first place" adding that Acta would "lead to a heavy-handed and repressive enforcement of copyright with no regard to the basic rights of citizens." [...]
Internet campaign group La Quadrature Du Net had suggested that the Parliament referring the deal to the Court would have delayed a final decision for over a year. [...]
Martin is expected to present his opinion on whether the trade committee should accept or reject Acta at the end of April. The trade committee is itself expected to vote on the matter at the end of the following month while a final plenary vote is likely to occur in June.