[EUobserver] French websites blacked out to protest piracy bill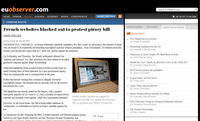 La Quadrature du Net (Squaring the Net), a French internet civil liberties pressure group backed by the Open Society Institute and the Electronic Frontier Foundation, has successfully organised a 'Black-out' protest, in which web designers, bloggers and others on the internet darken their web pages in protest at the bill.
The group says it is difficult to put a precise figure on the number of blacked-out sites, but say the number of unique domains joining the protest has reached over 12,000 and the number of URLs (web addresses) is at over 500,000. "To be safe, we are just saying 'tens of thousands," Jeremie Zimmerman, a spokesperson with La Quadrature du Net, told EUobserver.