[EFF] The Struggles of France's Three Strikes Law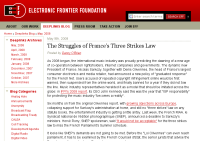 Six months on from the original Olivennes report, with growing objections across Europe, collapsing support for Sarkozy's administration at home, and still no "three strikes" law on any statute books, the entertainment industry is getting a little antsy. Last week, the French RIAA, le Syndicat national de l'édition phonographique (SNEP), announced a deadline to Sarkozy's ministers. Hervé Rony, SNEP spokesman, said "it would not be acceptable" for the three strikes law to miss the French Parliament's Summer schedule.
It looks like SNEP's demands are not going to be met. Before the "Loi Olivennes" can even reach parliament, it has to be examined by the French Counseil d'Etat, the senior jurists that advise the French executive and acts as France's supreme court.
They are not rushing their analysis. Just why might be gleaned from the leaked copy of the law sent to them for consideration (provided by Squaring the Net in French). Even after being moderated from earlier drafts, the document still describes a stunning shift in judicial and enforcement, both offline and on.
After explaining exactly why drastic measures are necessary (to "prevent the hemorrhaging of cultural works on the Internet") 1 the document outlines a powerful new government body, the High Authority for the Distribution of Works and the Protection of Rights on the Internet (La Haute Autorité pour la diffusion des œuvres et la protection des droits sur Internet, or HADOPI).
http://www.eff.org/deeplinks/2008/05/struggles-frances-three-strikes-law