[CorporateEurope] Unravelling the spin: a guide to corporate rights in the EU-US trade deal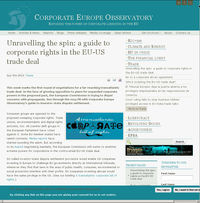 This week marks the first round of negotiations for a far-reaching transatlantic trade deal. In the face of growing opposition to plans for expanded corporate powers in the proposed pact, the European Commission is trying to dispel concerns with propaganda. See through the rosy PR with Corporate Europe Observatory's guide to investor-state dispute settlement. […]
To head off concerns amongst an increasingly concerned European public, the Commission has begun a misleading propaganda drive. Let us guide you through some of its key claims:
Spin #1: EU member states have not been sued in previous investor disputes
Spin #2: Legislation is not at risk
Spin #3: Investor-state dispute settlement promotes growth
Spin #4: The EU is formulating investor rights that safeguard public policy
Spin #5: Cultural diversity will not be compromised
Spin #6: European investors face problems in courts elsewhere
Spin #7: The EU will guarantee the independence of the arbitrators
Spin #8: Some of the investor privileges cannot be enforced in domestic courts
[…] So, here's what investor-state dispute settlement in the proposed EU-US trade deal is really about: exacerbating the imbalance between corporations and the 99% by granting a powerful weapon to fight regulation of some of the world's most powerful multinationals. They will use that weapon to enshrine existing inequalities and launch a toxic attack on democracy, both in the EU and the US.
Don't be fooled by the European Commission's spin. Don't let its rosy stories distort public debate about this looming transatlantic corporate bill of rights.
http://corporateeurope.org/blog/unravelling-spin-guide-corporate-rights-...