[ComputerWorldUK] EU Kills Net Neutrality, Threatens Online Openness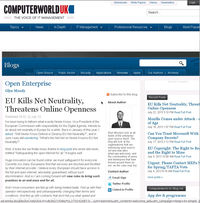 I've been trying to fathom what exactly Neelie Kroes, Vice-President of the European Commission with responsibility for the Digital Agenda, intends to do about net neutrality in Europe for a while. Back in January of this year, I asked: "Will Neelie Kroes Defend or Destroy EU Net Neutrality?", and in June I was still wondering: "What's the Net Net on Neelie Kroes's EU Net Neutrality?" [...]
Mrs Kroes concludes: " [...] it's about helping everyone who could enjoy and benefit from those new services. And I do not intend to be the one who kills off those opportunities."
But that is precisely what her proposals will do. By allowing premium pricing she not only destroys net neutrality, but she also puts back the barriers to entry that the Internet's rise has swept away from countless industries. She ensures that only companies with deep pockets will be able to launch new services that challenge existing ones. And she places all open projects - the real engine of innovation today - at at a huge disadvantage, since they lack the funds to buy premium delivery that would provide them with a level playing field. [...]
http://blogs.computerworlduk.com/open-enterprise/2013/07/european-commis...