[ComputerWorld] European Commission Covertly Pushing ACTA?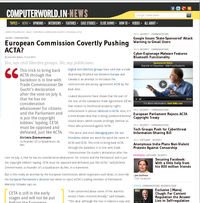 Digital civil liberties groups have said that a trade deal being thrashed out between Europe and Canada is an attempt to introduce the controversial anti-piracy agreement ACTA by the back door. [...]
"The worst and most damaging parts for our freedoms online are word for word the same in ACTA and CETA. This trick to bring back ACTA through the backdoor is in line with Trade Commissioner De Gucht's declaration after the vote on July 4, that he has no consideration whatsoever for citizens and the Parliament and is just the copyright lobbies' lapdog. CETA must be opposed and defeated, just like ACTA," said Jérémie Zimmermann, co-founder of La Quadrature du Net, in a statement. [...]
http://www.computerworld.in/news/european-commission-covertly-pushing-ac...