[ComputerWeekly] Wikileaks cables reveal Acta negotiators avoided official scrutiny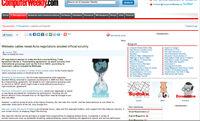 US negotiators wanted to make the Anti-counterfeiting Trade Agreement (Acta) a "freestanding agreement" to avoid scrutiny from international groupings such as the G-8 or OECD, according to diplomatic cables revealed by Wikileaks.
Wikileaks made available a number of Acta-related cables to the French digital rights campaign group La Quadrature du Net.
La Quadrature du Net said: "The history of Acta, as exposed by these US diplomatic cables, shows how an opaque and illegitimate process has led to ill-founded and unbalanced repressive provisions. As democratic representatives start debating over the ratification of Acta, they should reject Acta so as to protect democratic values and the rule of law."
http://www.computerweekly.com/Articles/2011/02/04/245222/Wikileaks-cable...