[ComputerActive] European Parliament to rule on anti-counterfeiting trade deal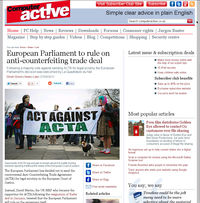 Following a majority vote against sending ACTA for legal scrutiny, the European Parliament's decision was welcomed by La Quadrature du Net.

The European Parliament has decided not to send the controversial Anti-Counterfeiting Trade Agreement (ACTA) for legal scrutiny in the European Court of Justice. [...]
This decision will please online advocacy group La Quadrature du Net which has been actively campaigning against the secretive agreement.
Jérémie Zimmermann for the group had said: "If the EU Parliament gives in to these technocratic tricks, it will give up on protecting EU citizens. Enough is known about ACTA to justify working towards its rejection without having to wait for the opinion of the ECJ. "
"Delaying the debate rather than have the courage to engage with the political issues raised by ACTA would completely undermine the democratic standing of the Parliament."[...]
http://www.computeractive.co.uk/ca/news/2164025/european-parliament-rule...