[Cnet] Google sees 'alarming' level of government censorship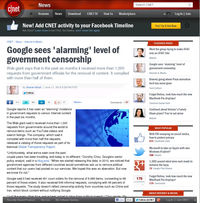 Web giant says that in the past six months it received more than 1,000 requests from government officials for the removal of content. It complied with more than half of them. [...]
Google said it had received 461 court orders for the removal of 6,989 items, consenting to 68 percent of those orders. It also received 546 informal requests, complying with 46 percent of those requests. The study doesn't reflect censorship activity from countries such as China and Iran, which block content without notifying Google.
"Just like every other time, we've been asked to take down political speech," Chou wrote. "It's alarming not only because free expression is at risk, but because some of these requests come from countries you might not suspect -- western democracies not typically associated with censorship." [...]
However, the company said it complied with the majority of requests from Thai authorities for the removal of 149 YouTube videos that allegedly insulted the monarchy, a violation of Thailand law. The Web giant said it also granted U.K. police requests for removal of five YouTube accounts that allegedly promoted terrorism. Google also said it complied with 42 percent of U.S. requests for the removal of 187 pieces of content, most of which were related to harassment.
http://news.cnet.com/8301-1023_3-57454920-93/google-sees-alarming-level-...