[Blogs.Wsj] Rip It Up and Start Again: The Plan For EU Telecoms Legislation?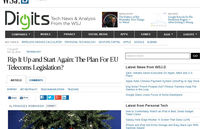 The new European Commission looks like it could seriously change direction in some policy areas, according to a letter sent from new commission president Jean-Claude Juncker [...] including a major reworking of the Digital Single Market package, the EU's proposed overhaul of European telecommunication rules. The letter, a copy of which has been seen by Real Time Brussels, says:
"You are also invited to examine all pending proposals in your area and to signal those which we should review together, for example because they have no realistic chance of being adopted in the near future, or because the degree of ambition achievable does not match the objectives sought." [...]
In any case, telecoms executives are sounding like it's Christmas come early. They have long been lobbying for regulatory changes — such as eased merger rules and "a level playing field" between telecoms companies and so-called over-the-top operators like Google, Apple and Facebook [...]
http://blogs.wsj.com/digits/2014/11/14/rip-it-up-and-start-again-the-pla...