[ArsTechnica] EU data law draft uses language -word-for-word- from US, EU corporations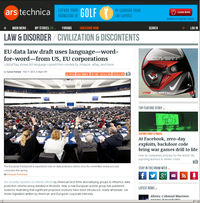 LobbyPlag shows bill language copied from models by Amazon, eBay, and more. [...]
The watchdog project, known as LobbyPlag, shows verbatim contributions from US and EU corporate interests showing up in the opinion amendment already approved (PDF) last month by the Internal Market and Consumer Protection (IMCO) committee. The documents' publication has caused ripples amongst other members of European Parliament (MEPs), as well as many digital and privacy advocates in Brussels.
"We need a more balanced approach—people need to be aware that their privacy rules are being decided by a group of business people," said Jan Philipp Albrecht, a German Green Party MEP. "And that's not what [citizens] expect the European Union to do."
LobbyPlag takes its source material from anonymous sources, documents provided by the Swedish Pirate Party and the French Internet advocacy group, La Quadrature du Net. [...]
http://arstechnica.com/tech-policy/2013/02/eu-data-law-proposal-uses-lan...