[Arstechnica] AT&T has 10 businesses paying for data cap exemptions, and wants more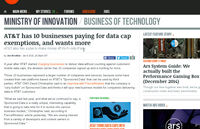 A year after AT&T started charging businesses to deliver data without counting against customers' mobile data caps, the wireless carrier has 10 companies signed up and is hunting for more.
Those 10 businesses represent a larger number of companies and services, because some have created their own platforms based on AT&T's "Sponsored Data" that can be used by third parties. AT&T CMO David Christopher said in an interview with FierceWireless that the company is "very bullish" on Sponsored Data and thinks it will spur new business models for companies delivering data to AT&T customers. […]
http://arstechnica.com/business/2015/01/att-has-10-businesses-paying-for...