[TheTelegraph] Berners-Lee to protect 'open internet'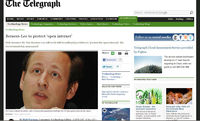 Web inventor Sir Tim Berners-Lee will work with broadband providers to 'protect the open internet', the Government has announced.
Sir Tim has agreed to help the Broadband Stakeholder Group build upon a recently published transparency document so that it includes the rights of consumers and business "to connect to whomever they wanted on the Internet without discrimination" [...]
Net neutrality campaigners believe that it would be wrong for, say, one content providers video traffic to be provided at a higher quality than another's over the open internet.
http://www.telegraph.co.uk/technology/news/8386544/Berners-Lee-to-protec...