[Telegraph] Police to 'patrol' Facebook and Twitter for terrorists under EU plan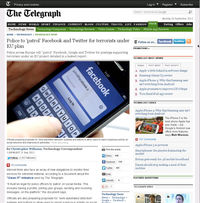 Police across Europe will "patrol" Facebook, Google and Twitter for postings supporting terrorism under an EU project detailed in a leaked report.
Internet firms also face an array of new obligations to monitor their services for extremist material, according to a document about the "w" initiative seen by The Telegraph. [...]
Joe McNamee, chief executive of the civil rights organisation EDRi" warned that the project could have unintended consequences for web users. "I'm not a terrorist, as long as a Greek or Estonian policeman doesn't accidentally think I'm a terrorist," he said. [...]
http://www.telegraph.co.uk/technology/news/9557932/Police-to-patrol-Face...