[TechDirt] Copyright Killbots Strike Again: Official DNC Livestream Taken Down By Just About Every Copyright Holder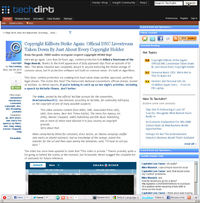 Here we go again. Less than 24 hours ago, content-protection bots killed a livestream of the Hugo Awards, thanks to the brief appearance of fully approved clips from an episode of Dr. Who. [...]
This time, content protection via crawling bots have taken down another approved, perfectly legal stream. The victim this time? The Democratic National Convention's official stream, hosted at YouTube. [...].
Sure, defining legitimate, pre-approved accounts may prove to be as difficult as determining which content is infringing and which isn't, but this should be the sort of thing that content holders should be working toward, rather than simply moving from disaster to disaster, smugly secure in the knowledge that filthy file sharers are getting content-blocked thousands of times a day. [...]
http://www.techdirt.com/articles/20120904/22172920275/copyright-killbots...